Our consultancy approach
We offer you holistic consulting on your road to the smart factory. Our experts bring comprehensive manufacturing experience and best practices to your project. Based on your requirements, we support you from vision definition to technology implementation to training and enabling.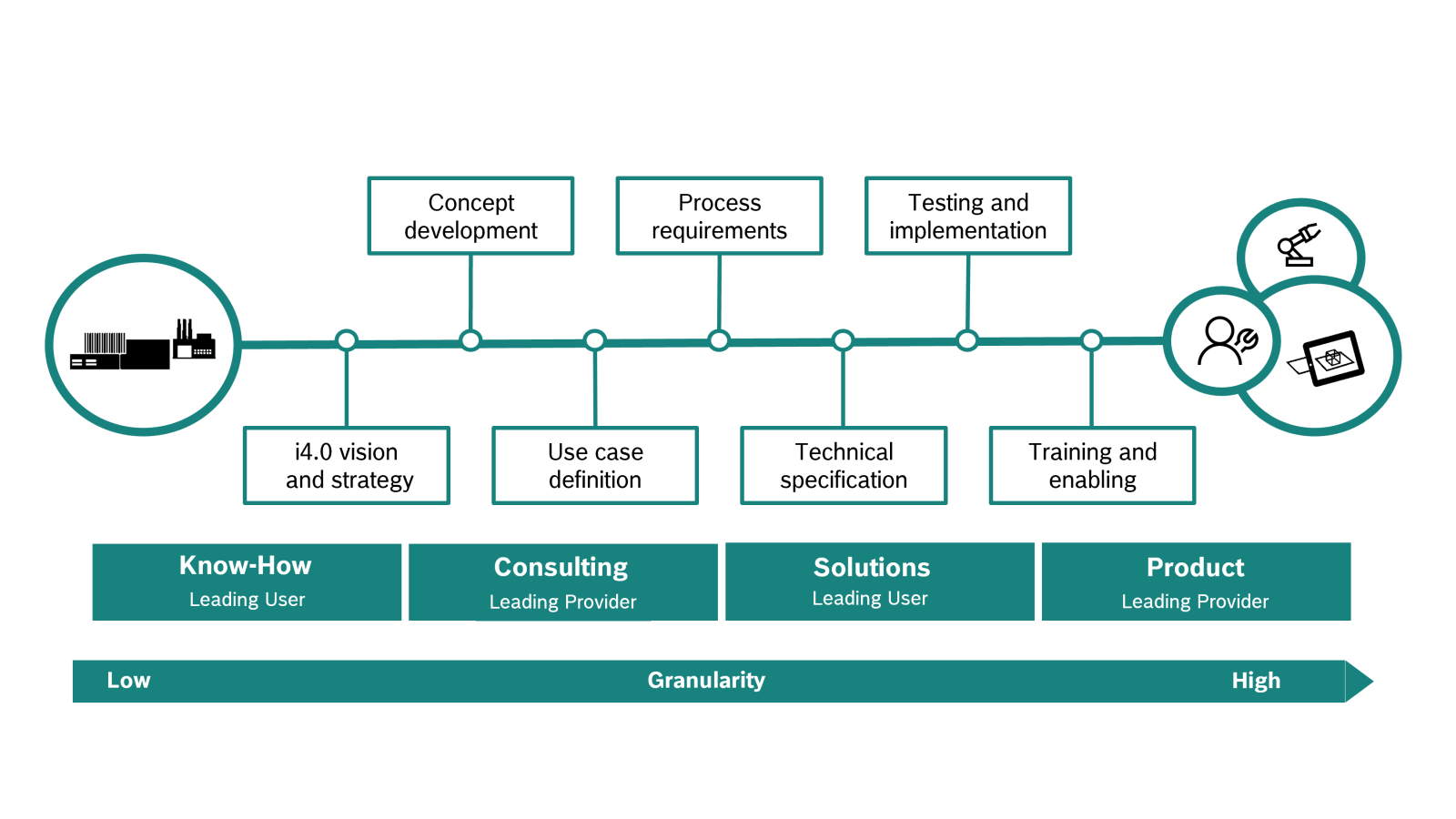 Nine success factors for Industry 4.0
The plants, process steps and framework conditions of all the projects are very different. And yet we can identify nine commonalities and factors that lead to success.
The journey into connected production requires a goal
Management has the first move to formulate a clear strategic direction and to define goals: What business model are we aiming at? What are our competencies? Which conditions and situations are we starting with? Only if these questions are answered can the journey into connected production begin.
Focus on the people
However innovative and exciting the technology might be: it is not the technology, but the people that determine success. Staff and management must recognize the opportunities and be excited about the change.The most important management task is to involve the employees and to take them along on the digital journey by means of systematic change management.
Lean is the engine, Industry 4.0 the turbocharger
Lean principles are a requirement for introducing Industry 4.0. The combination of lean and Industry 4.0 creates a previously unrealized transparency and opens significant potential for improvement in expenses, quality and agility.
Only measurable success is actual success
Industry 4.0 must be economically viable – and based on clearly defined key indicators and the return on investment (ROI). In its own plants, Bosch has already measurably improved the KPIs for inventory, delivery time and productivity. But the implementation of Industry 4.0 has also qualitatively increased agility and simplified variant management up to batch size 1.
Each challenge requires its own solution
Different production steps, different value streams, a wide variety of framework conditions: there is not just the one Industry 4.0 standard solution.It is decisive to analyze individual requirements in advance before developing and implementing a tailored solution, while never forgetting that even simple solutions can achieve significant effects.
Industry 4.0 is not a sprint, but a triathlon
Innovations and new processes require time to unfold. Digital transformation is no sprint and not a task that management can simply delegate. It affects all business functions and requires patience in all disciplines.
Network, customize, roll out
Even customized solutions are based on proven components, modules and processes. Machines and people must connect for Industry 4.0. Employees with a wide variety of functions must create new solutions together by using their respective domain knowledge. These solutions can often be transferred to similar situations with little modification.
Compatibility is the key
Connectivity and compatibility are inextricably intertwined. From an IT standpoint, only open standards can ensure a successful implementation. Uniform initial data ensure consistent evaluation and thus harmonize calculation of the relevant KPIs.
Concepts must adapt to production, not to the paper
What looks good in a PowerPoint presentation does not necessarily reflect reality. The real factory world is and remains decisive. What counts here from the beginning is whether the applications improve daily work - because that is the test for acceptance by the staff and for a successful implementation.
Get in touch with us
Martin Richter
Head of Bosch Industry Consulting
Telephone
Send us a message