The first step into the factory of the future
In the factory of the future, everything is connected. But where do you start? And how do you manage such a huge project? Defining the right moment for digital transformation is difficult – not to mention the investments that come with it. The good news is that even small steps can lead to success, as long as you always keep the ultimate goal in mind.
For example, you can start with manageable projects that work toward specific sub-goals.
This limits the costs and resources required and promotes acceptance among employees and members of the management.
So can you simply jump right in and get started? In theory, yes, but there are a few basic prerequisites that you should think of first.
Streamlining and standardizing processes – ideally with lean management methods
Industry 4.0 solutions are intended to increase the productivity and flexibility of a company. Ideally, they are based on processes that are already as efficient as possible. If this is not the case, it is ultimately waste that is digitalized and a lot of potential is lost. Since Lean Management and Industry 4.0 are based on similar principles – such as saving resources or reacting fast and flexibly – they complement each other very well. Our experience shows: The greatest impact of Industry 4.0 is felt in processes that have already been standardized and streamlined using lean management methods.
Establishing IT infrastructure and data concept – for optimal connectivity
To generate added value from machines and manufacturing data, it is important to create connectivity. If the machinery is still "offline", a few questions need to be addressed first: Which machines do you integrate and how do you do it? Which IT infrastructure do you choose? What sensors may be required? It is also necessary to clarify in advance which protocols the currently connected machines use and whether they match the requirements of the new software. After all, all machines should end up speaking the same language. Basic data engineering considerations also play an important role: What properties must the data have so that they can be used and analyzed collectively and comprehensively despite their heterogeneity? What requirements do you place on the storage of the data? For example, do you want to use a data lake to make it accessible from various locations? And should the data be available on a daily or second-by-second basis? These and similar questions must be clarified in advance in order to create a sustainable basis for utilizing the data. Larger companies in particular should take a close look at the specifications of their future Industry 4.0 software if they want to roll it out across several plants in the production network.
Considering the human factor from day one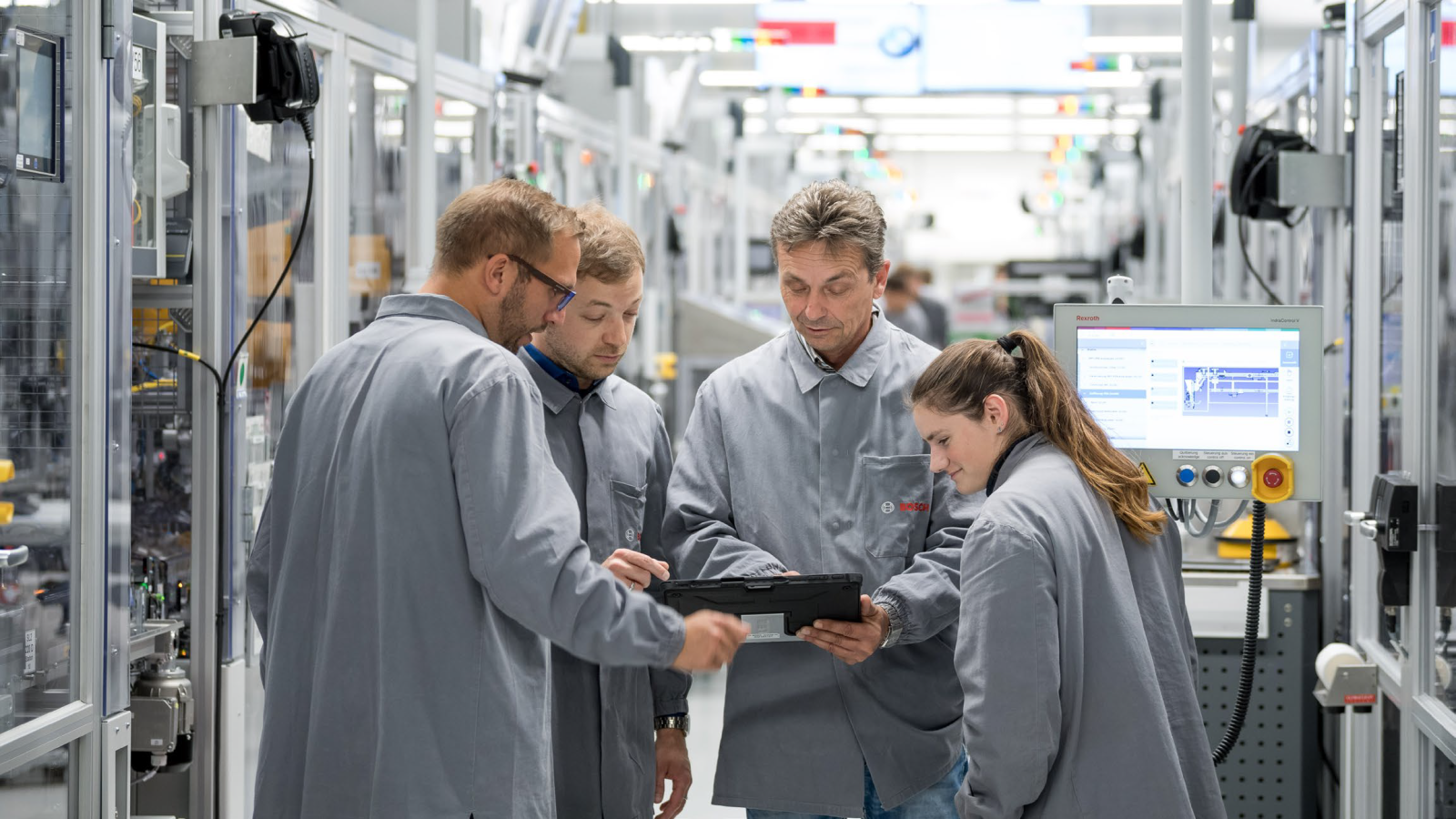 The human factor is crucial to the success of a digitization project: Only if the project is sufficiently accepted and the employees use the new solution to its full extent, it will be able to unfold its potential. Engaging the workforce at an early stage and preparing managers for potential difficulties is key to a successful IIoT implementation.
Once these basics have been covered, all you need is a well-designed rollout plan and the right use cases. Bosch Industry Consulting will be happy to support you in finding the optimal approach for your company – so that nothing stands in the way of successful digitalization.